These pages updated
1 Agosto, 2003
Follow the Path of your Choosing...




"The Artist Formerly Known as Turtle Woman"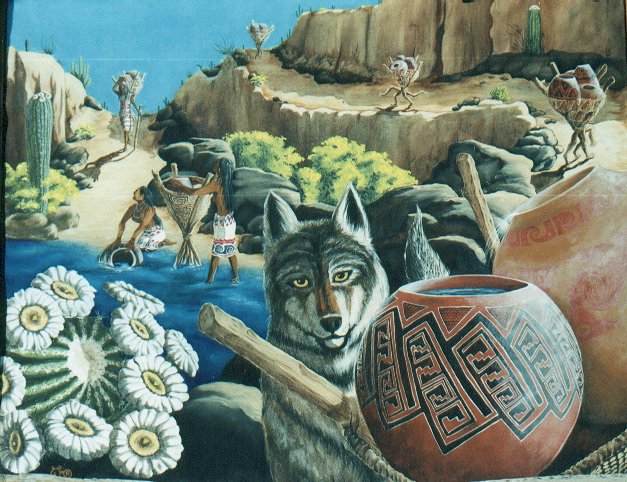 "Long Ago, When the Baskets Would Walk"
Acrylic on raw canvas, 40"w x 30"h.


Friends please note... You have arrived at the archived OLD Home Page for my site! If you want to go to the new home page GO HERE


"I am a painter and sculptor working in mixed media whose images are inspired by my love of this planet; a deep empathy for animals, and a feminist worldview. Within my artworks, "ordinary reality" is often suspended: the landscape of mythos and dreams is explored. This landscape is most often populated with horses and women and wolves. Rocks and strange plants serve for landmarks, and the living Sun and Moon hold court above.

Each piece of art I make tells a story: sometimes the stories come from my own imagination; but often the stories come from the folktales of various cultures. Oftentimes now I find myself telling these stories in the form of a poem that accompanies the artwork.

My work is colorful and emotional: it is often humorous. Each piece illustrates my reverence for the rich tapestry that is life on earth: waking and sleeping; heroic and humble; sacred and profane.


My Upcoming


For Summer into Fall 2003

First and foremost I must let you know that I am currently in the process of changing from an "outdoor show" type of artist to one who exhibits mostly in galleries. My work has changed much over the past few years, and the imagery and content of my current work simply appeal better now to a gallery-going audience. The new work is just not well-recieved by the more casual "art fair" attendee. I can accept this: it is time to move on. So - in the future this space will hold listings of my current and upcoming gallery exhibitions. I do hope you might consider attending one!

As always, I'm happy to let everyone know that my wood sculptures (animals and Santos) are always available for sale in Tohono Chul Park's Gallery Shop. From time to time some of my mirrors or other carved wall pieces such as santo shrines may be found in the gallery as well. Tohono Chul is of course that wonderful 49-acre Desert Park one stoplight west of Oracle Road on Ina Road, northwest of Tucson. For further directions or information call them at 520.297.4999.



A woman who works with her hands is a laborer.

A woman who works with her hands and her head is a craftswoman.

A woman who works with her hands, her head, and her heart

IS AN ARTIST.