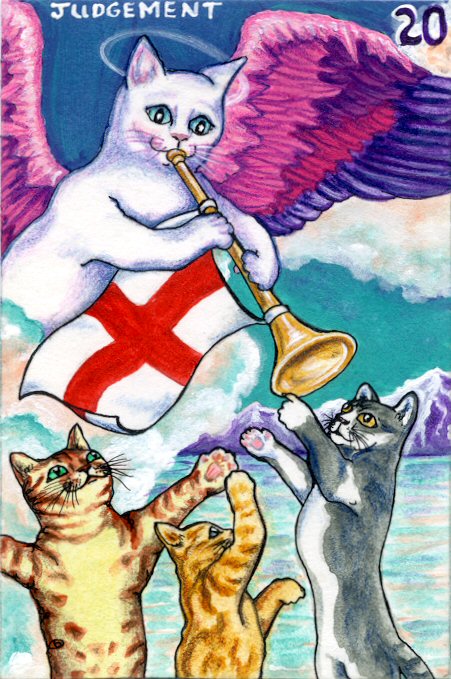 Cat Tarot Major Arcana #20 - "Judgement"

Hello and WELCOME! Happy Summer! I'm back with a new Tarot card and other news. Please scroll below to the 'News and Happenings' section for more!





Who am I? I am an artist-illustrator working in mixed media whose images are inspired by dreams, the Divine Feminine, and the Magickal World that coexists alongside the mundane world we trundle about in every day. My specialty is Tarot card and Goddess art, and I love to include magical creatures in my pieces such as cats, dragons, pelicans and monsters. My works explore the landscapes of mythos, alternate realities, and the psyche. Much of my art is whimsical or humorous: a gift from the Laughing Goddess.








For 16 July, 2007

(This is "my blog" if you will.)

Above is my newest Tarot Card: the Cat Tarot Judgement. See and read about it on the Tarot Majors Page. The original is up for auction on eBay now, and will end July 17. As some of you know I have used various cats that have been my companions over the years as models for some of these Tarot characters, and for this one I used Kitty Boy, the first cat I ever had back when I was a kid. This cat always meant a great deal to me, and this card is a fitting tribute to him. I plan on using Kali, the very old cat that I have now, as the Queen of Swords - she'll be perfect for that one! I have one more card to go in the Majors for the Cats deck ("The World"). When I have it and the 2 remaining Bellydancer cards done (I am working on the Bellydancer Judgement now), I am going to be doing some revamping of the website here: it's about time for some new graphics, etc., for one thing! And I will be setting up the selling points I've mentioned before for the Major Arcana sets. Prints of individual cards will still be available through my eBay store.

Also new is another entry in my 'Zodiac Cats' series: in this case it is a do-over for Gemini - I did a Gemini back early on but used (in my opinion) too thick a pen! This new piece is much more refined. See it on the sidebar at left and on my ACEO page. It is up now at auction on eBay and that auction ends the evening of July 24. For my next Zodiac card I will be taking up where I truly left off; with Scorpio.

There isn't much new to say concerning my health at this time! I am undergoing daily radiation treatments for the spot of cancer on my spine, and those continue through July 18. I have chemo once a week thru the first week in August. After that I don't know: they'll do more tests and decide where I'm at then! In the meantime I am just continuing merrily on with my artwork: Besides the Tarot cards, I am working on completing the 'Zodiac cats' ACEO series, and am also redesigning my personal logo to include a Pelican! So - that's all for this time - my sincere thanks to everyone who visits here!

As always I want to remind you that I am now archiving my blog above on my LiveJournal and on my MySpace page. Go visit 'em if you've a mind to, and feel free to add me as a friend.

Please click the little banner below to visit my eBay store!

I've already discovered some places on the web where I can get involved with cats, pelicans, their people and their welfare (not to mention I've discovered lolcats!).

Kitty Boy was my first cat when I was a kid, and this is a memorial for him: click the Catster badge (white cat) to visit and read his 'Rainbow Bridge' diary. Calico Hearts (Kali Ma) is the cat I have right now, whom I brought up from my old life in Catalina to spend her Golden Years with me. Click her badge below to visit and read her 'Calico Wisdom' diary. Click The Pelican Queen to go to a resource site all about pelicans on the California Coast. Click the I Can Has Cheezburger banner for some laughs!