I My eBay Store I Home I eMail Me I About Me I

I Catalog I ACEO Art Trading Cards I Tarot Card Art I Paintings I Drawings I Sculpture I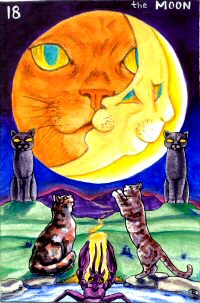 Luna's Original Tarot Art
Welcome to my main Tarot page. I am at this time creating a 'Cats Tarot' and 'Bellydancer Tarot', which are made up of originals that are Art Trading Card (ATC!) size: 3"w x 4.5" h. There is not a lot of serious writing that goes with these, and they are based in 'traditional' Tarot imagery. As soon as I finish the Majors, I'll begin the Minors of the Cats Tarot, working at the same pace. For the time being at least, I have decided not to do Minors for the Bellydancer Tarot: it will exist as a set of Majors only. I have discovered that doing 2 decks at once is too much for me, and I have had a greater response from viewers for the cats, so I will go forward with the cats only. I am also doing a set of personal 'Dream' Tarot images, larger format pieces; which often don't look like conventional Tarot cards. I am working on this series much more slowly, as time allows, as I am also writing a Tarot book that goes with it. When I have something new on that series done I put it up here, and also on the other Tarot page in the order in which it belongs (either Majors or Minors).


This page that you have arrived at will always consist of small (100 p. wide) thumbnails and card titles only; the thumbs click to larger images. This is for the convenience of those who want to quickly browse the whole collection as it develops and/or just want to see the images without a bunch of my yakking. I have a lot to say about Tarot but am putting that up as separate pages with larger images. I've put the Major and general Minors pages up but note they are mostly just writing for now: I'm adding images as I get them done! To see those pages follow these links:


I The Tarot Major Arcana I The Tarot Minor Arcana I


Information on ordering prints of these images may be found at the bottom of this page.
Major Arcana
I begin here with the Majors, stacking them in ascending order as I work upward thru them. Click the thumbnail to see a larger view.






















Death ...(Freedom and Rebirth)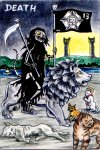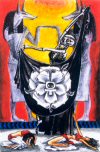 The Hanging Man (or Cat!) ... (Suspension)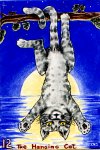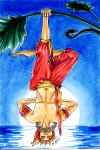 The Wheel of Fortune ... ("Life Cycle")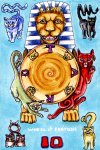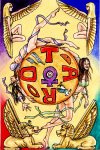 The Emperor ... ("The Captain")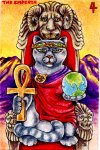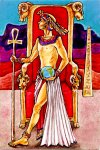 The High Priestess ... ("Dreamer")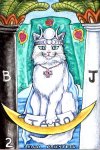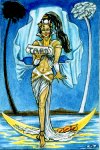 Thanks for visiting, and do return soon as I'll be adding new works as I get them finished.


ALL of the ATC Tarot cards (Cat and Bellydancer Tarots) are available as card-sized prints: 2400 dpi high resolution art prints at 100% of the size of the original (3" x 4.5"). All card-sized (ATC) prints come to you in an acid-free sleeve and you also get a little certificate with notes about the card. The price is $1.99 each, plus $1.00 for shipping and handling via first-class mail (Free shipping on each additional card you buy). I also offer the Cat and Bellydancer images as Greeting Cards: this is the absolutely largest I will make these: image area is a framable 5"x7", hand-signed and titled on the reverse with a few notes about the card too. Printed on bright white stock and comes with matching envelope: these are $3.50 each, shipping $2.00 First Class Mail, free shipping for each additional (please note these are not available thru eBay: you must purchase them direct from me, and I am going to offer them thru CafePress in the future). The Dream Tarot pieces, which spring from larger originals, are available as 6.5" x 10" or 8"x10" prints AND as ATC size (3" x 4.5") prints. The price for the these large prints is $10.00 each; ATC card-sized prints $1.99 cents each. The 6.5x10s and 8x10s come to you in an archival sleeve along with a copy of a text page about the card from my book, ATCs come in an acid-free archival photo sleeve with a little certificate containing a few notes on the card. The originals of these larger images are not for sale at this time. Purchase all these prints every day in my eBay store or if you're not an eBay-er (join!), eMail me to place an order: you may pay via check, money order, or PayPal. As for the ATC originals - I always put them up for auction on eBay as soon as they are finished: usually they sell but if a particular one doesn't it will be available in my eBay store, which you may visit via the button below.

The easiest and fastest way for you to purchase my Tarot Prints is via eBay!
Please remember that this page is only for my Tarot-themed artworks. To see my non-Tarot Art Trading Card print catalog/archive, go to my ACEO Art Trading Card page. To see all my other paintings and drawings - new and old; images only - please go to my Catalog page! Or for a more in-depth look, follow the links to my Paintings and Drawings pages.

Questions or comments about my art are always welcome! eMail me at:
tarot@lunarivera.com

---
I Catalog I ACEO Art Trading Cards I Tarot Card Art I Paintings I Drawings I Sculpture I

I My eBay Store I Home I eMail Me I About Me I